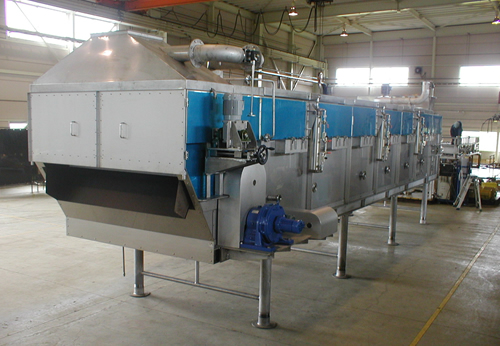 Continuous Rice Steaming Machine
Outline
This machine performs the steaming process. The steaming time, the temperature of the supplied steam, and the amount of the steam are all adjusted automatically according to the types of rice such as the growing area, the variety, the milling ratio, and the use classification. This continuous rice steaming machine provides you with the steamed rice having a firm outer surface and a soft inner core with the light elasticity.
Features
(1) The steaming process can be automatically controlled by a computer. Unmanned operation is possible.
(2) The hardness of the steamed rice is adjusted freely. You can obtain uniformly steamed rice.
(3) A liquid crystal panel is available on the control panel. You can easily change the types of rice with one finger.
(4) After the process is complete, the machine is cleaned easily using the automatic cleaning device.
Specification
(Steaming time: 30 min.)
| Model (type) | Capacity (kg/h) | Power (kW) | Dimensions (WxLxH) (mm) |
| --- | --- | --- | --- |
| 7 | 1,000 | 0.4 x 2, 0.75, 1.5 | 1,920 x 4,880 x 2,485 |
| 8 | 1,200 | 0.4 x 2, 0.75, 1.5 | 1,920 x 5,750 x 2,485 |
| 10 | 1,500 | 0.4 x 2, 0.75, 1.5 | 1,920 x 6,500 x 2,485 |
| 15 | 2,250 | 0.4, 0.75 x 2, 1.5 | 2,370 x 7,500 x 2,685 |
| 20 | 3,000 | 0.4, 0.75, 1.5 x 2 | 2,370 x 9,500 x 2,740 |